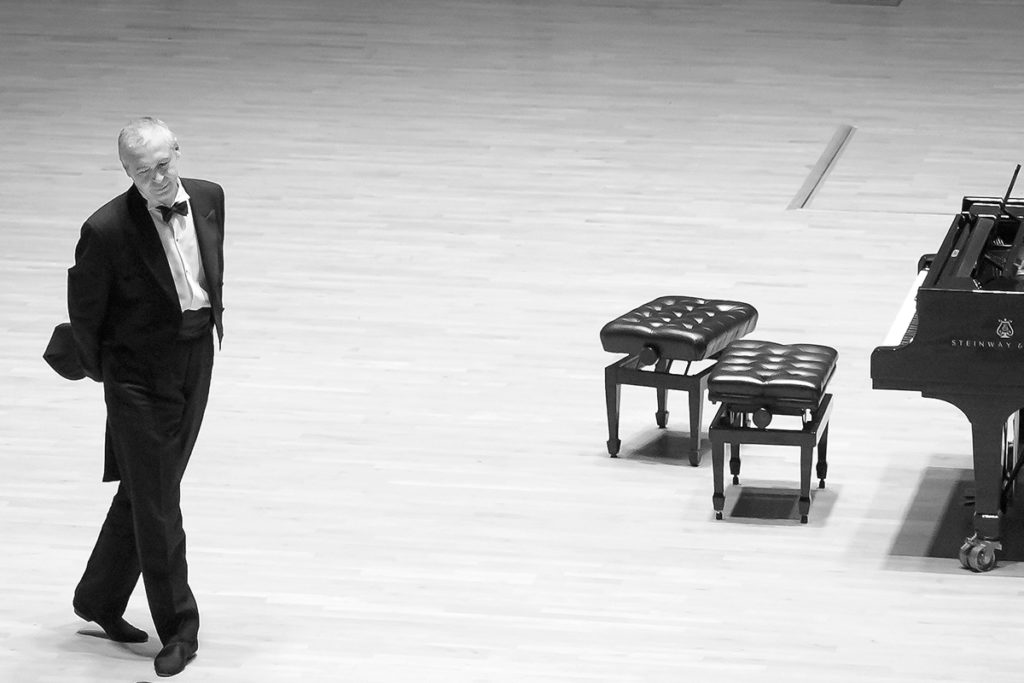 Stepped into the planetary spotlight in 1980 during the 10th Frederic Chopin International Piano Competition in Warsaw, where, for reasons which have never been fully explained, he was eliminated before the final round. This controversial and unfounded decision resulted in dissatisfaction among certain members of the jury, who left the competition in protest, while pianist Martha Argerich explained her decision to leave by declaring Pogorelich a genius. His debut in New York Carnegie Hall in 1981 was followed by sensational solo performances on the world's most important stages, as well as those with renowned orchestras such as the Vienna, Berlin, New York, Los Angeles Philharmonic orchestras, the London, Boston and Chicago Symphony orchestras and the Tonhalle and Concertgebouw orchestras to name but a few.
As an exclusive artist of Deutsche Grammophon record label between 1981 and 1998, Ivo Pogorelich released the extensive discography including fourteen albums. In August 2019 he became an exclusive artist of
SONY CLASSICAL
and released his first studio recordings in 20 years. In 2022 Pogorelich dedicated a new album entirely to CHOPIN and toured a Chopin recital in almost all major European concert halls?. He returned to the USA for the first time after 20 years for recitals and toured an extensive European tour with the Baseler Kammerorchster, which will be continued in summer 2023.
"The ordinary and the easily consumable are simply not an option for this visionary of the 88 keys." — SALZBURGER NACHRICHTEN
"He played each note exactly, with such a feeling, such expression, he was an entire orchestra – it was as if he played 200 years ahead of our time…"
— NEW YORK TIMES
Website: https://ivopogorelich.com/calendar/
10 September 2023 TORINO, MITO FESTIVAL 
Teatro dal Verme (MiTo Festival)
CHOPIN : Prelude, Op. 45
SCHUMANN : Symphonic Etudes, Op. 13 (incl. Op. Posth.)
SIBELIUS : Valse Triste, Op. 44
SCHUBERT : Six Moments Musicaux
11 September 2023 MILAN, MITO FESTIVAL
Conservatorio Giuseppe Verdi 
CHOPIN : Prelude, Op. 45
SCHUMANN : Symphonic Etudes, Op. 13 (incl. Op. Posth.)
SIBELIUS : Valse Triste, Op. 44
SCHUBERT : Six Moments Musicaux
29. & 30 September 2023PODGORICA, Montenegro Muzički centar Crne Gore
Sergei RACHMANINOFF Piano concerto No. 2, op. 18
Montenegrin Symphony Orchestra
Mark Korovitch, conductor
18 October 2023
NOVI SAD, Serbia Sinagoga (Nomus Festival)
Sergei RACHMANINOFF
Piano concerto No. 2, op. 18
Vojvodina Symphony Orchestra
Aleksandar Marković, conductor
07 November 2023 PARIS Philharmonie  
CHOPIN
Polonaise-Fantaisie, Op. 61 · Sonata No. 3, Op. 58
Fantaisie, Op. 49 · Berceuse, Op. 57 – Barcarolle, Op. 60
21 November 2023
Zurich Tonhalle
CHOPIN : Prelude Op. 45
SCHUMANN : Symphonic Etudes, Op. 13 – Including Op. Posth.
SIBELIUS : Valse Triste, Op. 44
SCHUBERT : Six Moments Musicaux D 780 (Op. 94)
24 November 2023 SOFIA Bulgaria Hall
CHOPIN
Polonaise-Fantaisie, Op. 61 · Sonata No. 3, Op. 58
Fantaisie, Op. 49 · Berceuse, Op. 57 – Barcarolle, Op. 60
24 November 2023 SOFIA Bulgaria Hall
CHOPIN
Polonaise-Fantaisie, Op. 61 · Sonata No. 3, Op. 58
Fantaisie, Op. 49 · Berceuse, Op. 57 – Barcarolle, Op. 60
PAST CONCERTS
National Center for the Performing Arts
Chopin: Polonaise-Fantaisie, Op. 61 
Chopin: Sonata No. 3, Op. 58
Chopin: Fantaisie, Op. 49 · Berceuse, Op. 57 &Barcarolle, Op. 60
20.06.2023 GUANGZHOU, China
Opera House
Chopin: Polonaise-Fantaisie, Op. 61 
Chopin: Sonata No. 3, Op. 58
Chopin: Fantaisie, Op. 49 · Berceuse, Op. 57 &Barcarolle, Op. 60
24.06.2023 SHANGHAI, China
Concert Hall
Chopin: Polonaise-Fantaisie, Op. 61 
Chopin: Sonata No. 3, Op. 58
Chopin: Fantaisie, Op. 49 · Berceuse, Op. 57 &Barcarolle, Op. 60
30.06.2023 XI'AN, China
Concert Hall
Chopin: Polonaise-Fantaisie, Op. 61 
Chopin: Sonata No. 3, Op. 58
Chopin: Fantaisie, Op. 49 · Berceuse, Op. 57 &Barcarolle, Op. 60
08.08.2023 BODO, Norway
Nordland Musikkfestuke
Kammerorchester Basel
CHOPIN: Piano concerto No. 2, op. 21
10.08.2023 LUBECK, Germany
Schleswig-Holstein Musikfestival
Kammerorchester Basel
CHOPIN: Piano concerto No. 2, op. 21
Frédéric CHOPIN
Piano concerto No. 2, op. 21
Kammerorchester Basel
12.08.2023 KASSEL, Germany
Kultursommer Nordhessen Festival
Kammerorchester Basel
CHOPIN: Piano concerto No. 2, op. 21
 
 
 
 14.09.2021 Teatro del Verme (MITO Festival MILANO)
 
Chopin Fantaisie, Op. 49
Chopin Polonaise-Fantaisie, Op. 61
Chopin Sonata No. 3, Op. 58
 
SCHUBERT: Six moments musicaux D 780, Op. 94
 
 
15.09.2021 Conservatorio Giuseppe Verdi (MITO Festival TORINO)
 
Chopin Fantaisie, Op. 49
 
Chopin Polonaise-Fantaisie, Op. 61
 
Chopin Sonata No. 3, Op. 58
 
SCHUBERT: Six moments musicaux D 780, Op. 94
 
 
 
 
 
 
 
16.09.2021 Auditorio San Barnaba, BRESCIA
 
 
 
 
 
Chopin Fantaisie, Op. 49
 
Chopin Polonaise-Fantaisie, Op. 61
 
Chopin Sonata No. 3, Op. 58
 
SCHUBERT: Six moments musicaux D 780, Op. 94
 
 
 
 
 
 
30.09.2021 MEGARON, ATHENS
 
 
Chopin Barcarolle op 60
 
 
 
Chopin Fantaisie op 49
 
 
 
Chopin Sonata N° 3
 
 
 
Chopin Berceuse op 57
 
 
 
Chopin Polonaise Fantaisie 61
 
 
 
 
 
 
03.10.2020 GULBENKIAN LISSBONNE
 
 
 Chopin Barcarolle op 60
 
Chopin Fantaisie op 49
 
Chopin Sonata N° 3
 
Chopin Berceuse op 57
 
Chopin Polonaise Fantaisie 61
 
 
 
 
 
 
 
10.10.2021 NOVI SAD, Serbia
 
Serbian National Theatre
 
CHOPIN Piano Concerto No. 2 in F minor, Op. 21
 
Vojvođanski Simfonijski Orkestar
 
Srboljub Dinić, conductor
 
 
 
 
 
 
15.10.2021 Teatro Fusco TARANTO
 
 
Chopin Barcarolle op 60
 
Chopin Fantaisie op 49
 
Chopin Sonata N° 3
 
Chopin Berceuse op 57
 
Chopin Polonaise Fantaisie 61
 
 
 
 
 
 
17.10.2021 Teatro dei Marsi AVEZZANO
 
 
Chopin Barcarolle op 60
 
Chopin Fantaisie op 49
 
Chopin Sonata N° 3
 
Chopin Berceuse op 57
 
Chopin Polonaise Fantaisie 61
 
 
 
 
 
 
18.10.2021 Santa Cecilia Concert Hall ROME
 
 
Chopin Barcarolle op 60
 
Chopin Fantaisie op 49
 
Chopin Sonata N° 3
 
Chopin Berceuse op 57
 
Chopin Polonaise Fantaisie 61
 
 
 
 
 
 
08.112021 Salle Gaveau, PARIS 
 
 
Chopin Barcarolle op 60
 
Chopin Fantaisie op 49
 
Chopin Sonata N° 3
 
Chopin Berceuse op 57
 
Chopin Polonaise Fantaisie 61
 
 
 
 
 
 
10.11.2021 Auditorium de BORDEAUX
 
 
 
 
Chopin Barcarolle op 60
 
Chopin Fantaisie op 49
 
Chopin Sonata N° 3
 
Chopin Berceuse op 57
 
Chopin Polonaise Fantaisie 61
 
 
 
 
 
 
13.11.2021 Tonhalle ZÜRICH
 
 
 
 
Chopin Barcarolle op 60
 
Chopin Fantaisie op 49
 
Chopin Sonata N° 3
 
Chopin Berceuse op 57
 
Chopin Polonaise Fantaisie 61
 
 
 
20.11.2021 Meistersingerhalle NÜRNBERG
 
 
21.11.2021 Grosse Aula REGENSBURG
 
 
24.11.2021 Philharmonie ESSEN
 
 
25.11.2021 Rosengarten MANNHEIM
 
 
26.11.2021 Konzerthaus FREIBURG
 
 
30.11.2021 Stadtcasino BASEL
 
 
Kammerorchester Basel
 
 
Tournée
 
 
 Chopin Piano Concerto N° 2
 
 
  
 
 
13.01.2022 Konzerthaus VIENNA
 
Chopin Barcarolle op 60
 
Chopin Fantaisie op 49
 
Chopin Sonata N° 3
 
Chopin Berceuse op 57
 
Chopin Polonaise Fantaisie 61 
 
 
 
 
 
27.01.2022 Auditorium LE MANS
 
 
 Chopin Barcarolle op 60
 
Chopin Fantaisie op 49
 
Chopin Sonata N° 3
 
Chopin Berceuse op 57
 
Chopin Polonaise Fantaisie 61
 
 
 
 
 
 
24.02.2022 Victoria Hall GENEVE
 
 
 Chopin Barcarolle op 60
 
Chopin Fantaisie op 49
 
Chopin Sonata N° 3
 
Chopin Berceuse op 57
 
Chopin Polonaise Fantaisie 61
 
 
  
 
 
26.02.2022 Liderhalle STUTTGART
 
 
 Chopin Barcarolle op 60
 
Chopin Fantaisie op 49
 
Chopin Sonata N° 3
 
Chopin Berceuse op 57
 
Chopin Polonaise Fantaisie 61
 
 
 
27.02.2022 Prinzregententheater MUNICH
 
 
Chopin Barcarolle op 60
 
Chopin Fantaisie op 49
 
Chopin Sonata N° 3
 
Chopin Berceuse op 57
 
Chopin Polonaise Fantaisie 61
 
22.04.2022 Xavier University Center Theater, CINCINNATTI
 Chopin Barcarolle op 60
 
Chopin Fantaisie op 49
 
Chopin Sonata N° 3
 
Chopin Berceuse op 57
 
Chopin Polonaise Fantaisie 61
 
24.04.2022 Koerner Hall, Toronto
 Chopin Barcarolle op 60
 
Chopin Fantaisie op 49
 
Chopin Sonata N° 3
 
Chopin Berceuse op 57
 
Chopin Polonaise Fantaisie 61
 
06.05.2022 Teatro Verdi, Sassari
 Chopin Barcarolle op 60
 
Chopin Fantaisie op 49
 
Chopin Sonata N° 3
 
Chopin Berceuse op 57
 
Chopin Polonaise Fantaisie 61
 
24.05.2022 Konzerthaus, VIENNA
 Chopin Barcarolle op 60
 
Chopin Fantaisie op 49
 
Chopin Sonata N° 3
 
Chopin Berceuse op 57
 
Chopin Polonaise Fantaisie 61
 
 26.05.2022 Villa Pignatelli, NAPOLI
 Chopin Barcarolle op 60
 
Chopin Fantaisie op 49
 
Chopin Sonata N° 3
 
Chopin Berceuse op 57
 
Chopin Polonaise Fantaisie 61
 
02.06.2022 Musikzentrum, BOCHUM
 Chopin Barcarolle op 60
 
Chopin Fantaisie op 49
 
Chopin Sonata N° 3
 
Chopin Berceuse op 57
 
Chopin Polonaise Fantaisie 61
 
05.06.2022  Philharmonic Hall, ODESSA, Ukraine
 Chopin Barcarolle op 60
 
Chopin Fantaisie op 49
 
Chopin Sonata N° 3
 
Chopin Berceuse op 57
 
Chopin Polonaise Fantaisie 61
 
07.06.2022 Salle Philharmonique, Namur, Belgique
 Chopin Barcarolle op 60
 
Chopin Fantaisie op 49
 
Chopin Sonata N° 3
 
Chopin Berceuse op 57
 
Chopin Polonaise Fantaisie 61
 
18.06.2022 Auditorium De Falla, GRANADA
 Chopin Barcarolle op 60
 
Chopin Fantaisie op 49
 
Chopin Sonata N° 3
 
Chopin Berceuse op 57
 
Chopin Polonaise Fantaisie 61
06.09.2022 Torino, Teatro Verdi
MITO Festival
Ravel: Prélude en là-mineur
Mozart: Fantasia in C-minor KV  475
Schubert: Six Moments Musicaux
Schumann: Fantasie in C-Major op 17
 
07.09.2022 Milano, Teatro del Verme
MITO Festival
Ravel: Prélude en là-mineur
Mozart: Fantasia in C-minor KV  475
Schubert: Six Moments Musicaux
Schumann: Fantasie in C-Major op 17
 
27.11.2022 Palma de Mallorca
Auditorium
Chopin: Fantaisie op 61
Chopin: Sonata N° 3
Chopin: Fantaisie op 49
Chopin: Berceuse op 57
Chopin Barcarolle op 60
 
02.12.2022 Castelvetrano, Italy
Auditorium
Chopin: Fantaisie op 61
Chopin: Sonata N° 3
Chopin: Fantaisie op 49
Chopin: Berceuse op 57
Chopin Barcarolle op 60
 
04.12.2022 Palermo
Chiesa San Mattia
Chopin: Fantaisie op 61
Chopin: Sonata N° 3
Chopin: Fantaisie op 49
Chopin: Berceuse op 57
Chopin Barcarolle op 60
 
06.12.2022 Forli, Italy
Teatro Diego Babbri
Chopin: Fantaisie op 61
Chopin: Sonata N° 3
Chopin: Fantaisie op 49
Chopin: Berceuse op 57
Chopin Barcarolle op 60
 
 
14.12.2022 Paris Salle Gaveau
Chopin: Concerto pour piano N° 2
Mozart Jupiter Symphonie N° 41
Orchestra Appassionato, Mathieu Herzog Direction
 
 
03.01.2023 Taipee
National Concert Hall
Chopin: Fantaisie op 61
Chopin: Sonata N° 3
Chopin: Fantaisie op 49
Chopin: Berceuse op 57
Chopin Barcarolle op 60
 
 
04.01.2023 Kaohsiung, Taiwan
National Kaohsiung Center for the Arts
Chopin: Fantaisie op 61
Chopin: Sonata N° 3
Chopin: Fantaisie op 49
Chopin: Berceuse op 57
Chopin Barcarolle op 60
 
 
 
07.01.2023 Tokyo
Tokyo Metropolitan Theatre
Rachmaninov: Concerto N° 2 for Piano
Yomiuri Nippon Symphony Orchestra
Conductor: Kazuki Yamada
 
08.01.2023 Tokyo
Tokyo Metropolitan Theatre
Rachmaninov: Concerto N° 2 for Piano
Yomiuri Nippon Symphony Orchestra
Conductor: Kazuki Yamada
 
 
11.01.2023 Tokyo
 Suntory Hall
Chopin: Fantaisie op 61
Chopin: Sonata N° 3
Chopin: Fantaisie op 49
Chopin: Berceuse op 57
Chopin Barcarolle op 60
 
13.01.2023 Tokyo
Hamarykiu Asashi Hall
Chopin: Fantaisie op 61
Chopin: Sonata N° 3
Chopin: Fantaisie op 49
Chopin: Berceuse op 57
Chopin Barcarolle op 60
 
08.02.2023 Berlin
Philharmonie
Chopin: Fantaisie op 61
Chopin: Sonata N° 3
Chopin: Fantaisie op 49
Chopin: Berceuse op 57
Chopin Barcarolle op 60
 
17.02.2023 Parma
Paganini Auditorium
Rachmaninov: Concerto N° 2 for Piano
Filarmonica Arturo Toscanini
Conductor: Keri-Lynn Wilson
 
18.02.2023 Cesena
Teatro Bonci
Rachmaninov: Concerto N° 2 for Piano
Filarmonica Arturo Toscanini
Conductor: Keri-Lynn Wilson
 
 
26.03.2023 Liège Salle Philharmonique
Chopin: Prélude op 45
Schumann: Etudes Symphoniques et variations posthumes op 13
Sibelius: Valse Triste
Schubert: Six Moments Musicaux
 
 
28.03.2023 Paris Salle Gaveau
Chopin: Prélude op 45
Schumann: Etudes Symphoniques et variations posthumes op 13
Sibelius: Valse Triste
Schubert: Six Moments Musicaux