Christian Arming, Conductor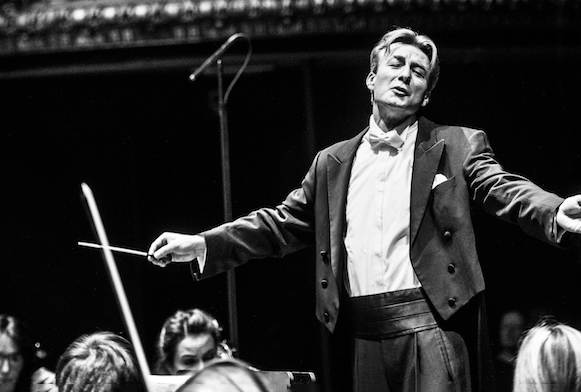 Principal Chief Conductor of the Hiroshima Symphony Orchestra 
Christian Arming, born in Vienna and raised in Hamburg started as the youngest ever Music Director, at the age of 24, of the Janacek Philharmonic and was subsequently discovered and mentored by Seji Ozawa and appointed chief conductor of the Lucerne Opera and Symphony Orchestra. From 2011 to 2019 he held the position of the musical director of the Liege Royal Philharmonic Orchestra and the New Japan Philharmonic in Tokyo. In 2018 he was appointed Principal Chief Conductor of the Hiroshima Symphony Orchestra.
 Christian Arming's work has also won many supporters in the operatic world, faithfully working at the Frankfurt and Tokyo Opera. He made his debut at the Salzburg Festival in 1997. With the Prague Radio Symphony Orchestra he presented in 2018 Dvořák's Spectres Bride. He conducted between Nancy and Hamburg Pelléas et Mélisande, Léonore, Les Mamelles de Tirésias, Gianni Schicchi, Salomé, Eine florentinische Tragödie, Lohengrin  and many other, for instance Die Fledermaus.  Christian Arming has a varied discography including works by Janáček, Schubert, Brahms and Mahler, in June 2018 his first recording for Deutsche Grammophon was launched.
L'occasion aussi de rappleler l'excellence de la formation à laquelle il appartient, l'Orchestre Philharmonique de Liège, dirigé ici une dernière fois par celui qui en fut le remarquable directeur musical ces dernières années, Christian Arming. Sep 17, 2019
Ariadne auf Naxos, Opéra Montpellier avril 2022: Avant tout, on doit la réussite musicale de cette production à Christian Arming, dont on connaît la carrière internationale. Il se montre un merveilleux straussien : son attention à chacun, la fluidité de sa direction – essentielle au prologue – la volupté, le raffinement, la sensualité jusqu'à l'ivresse que nous vaut l'Orchestre national Montpellier Occitanie, n'appellent que l'admiration. L'atmosphère chambriste est constante, y compris dans les passages les plus intenses. Dans la merveilleuse ouverture de l'opéra, les cordes chantent (comme le chef), à l'égal de Capriccio ou des Quatre derniers Lieder, le lyrisme juste, avec la clarté comme la plénitude, les phrasés attendus, c'est un bonheur constant, d'autant que les bois, délicieux, fruités, puis les cuivres y ajoutent leurs couleurs. Au point que l'on se prend à penser que l'orchestre est au moins aussi captivant que les voix, malgré toutes leurs réelles qualités.- Avr 19, 2022