yorgos ziavras, Conductor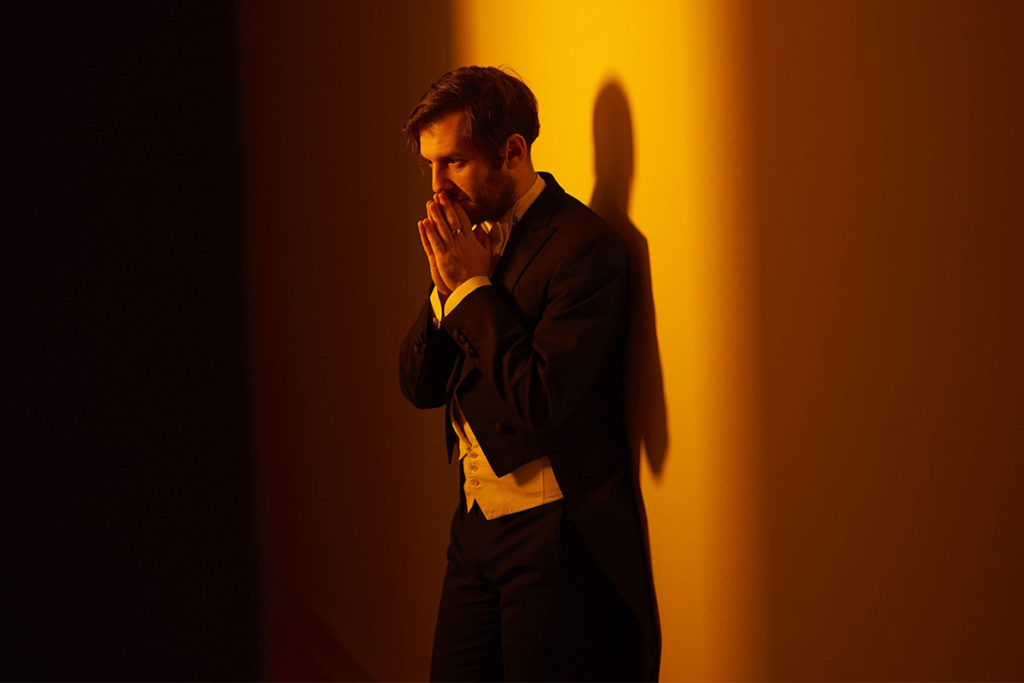 Yorgos Ziavras is a surprising outsider: a trained cembalist and architect, he's a regular conductor at the Greek National Opera, from Fledermaus, Purcell, to Fidelio or Skalkottas in high demand !
With his self-founded ERMA Ensemble he premiered Peter Eötvös' Goldene Drach in Cologne in 2019, being praised his views on technical as well as on musical problems. Kapellmeister in Krefeld-Mönchengladbach he's conducted productions of​ Let's Stop Brexit, ​Die Zauberflöte , ​Sunset Boulevard, ​Dialogues des Carmél​ites…
Ziavras founded in 2015 the CoGNiMUS orchestra (www.cognimus.de) focussing on baroque music: this year a Mozart Requiem mixed and commentend with compositions of our time, staged and presented for new audiences will come to live in November 2021. 
Devant une salle comble visiblement conquise d'avance, le maître des lieux nous a livré une vision très personnelle et particulièrement intéressante des trois pièces proposées ce soir, Christian Arming s'expose comme un architecte. - Mar 25, 2018
L'occasion aussi de rappleler l'excellence de la formation à laquelle il appartient, l'Orchestre Philharmonique de Liège, dirigé ici une dernière fois par celui qui en fut le remarquable directeur musical ces dernières années, Christian Arming. Sep 17, 2019
20.11.2021 Köln, AbenteuerHallen Kalk
RequieMoirolói (basierend auf Mozart's Requiem) -
CoGNiMUS Collektiv
05.12.
Theater Mönchengladbach
Donizzetti : DON PASQUALE
12.12.2021 Theater Mönchengladbach
Donizzetti : DON PASQUALE
14.12.2021 Theater Krefeld
Donizzetti : DON PASQUALE
09.01.2022 Theater Mönchengladbach
Donizzetti : DON PASQUALE
18.12.2021 Theater Krefeld
GROẞE OPERNGALA (bel canto)
10.12.2021 Theater Mönchengladbach
GROẞE OPERNGALA (bel canto)
12./25./27 & 30.03.2022 Theater Krefeld
Lyoyd Webber : SUNSET BOULEVARD
17.04.2022 Theater Mönchengladbach
Mozart: DIE ZAUBERFLÖTE
19.04.2022 Theater Krefeld
SUNSET BOULEVARD
Lyoyd Webber : SUNSET BOULEVARD
23.04.2022 Theater Krefeld
HELDEN DER LEINWAND (Sinfoniekonzert/Filmmusik)
24.0.04.2022 Theater Mönchengladbach: 24.4.2022, 19h
HELDEN DER LEINWAND (Sinfoniekonzert/Filmmusik)
28.04.2022 Theater Mönchengladbach
01.05.2022 Kölner Philharmonie
Ensemble Musikfabrik @ACHTBRÜCKEN Festival
08.05.2022 Theater Mönchengladbach
15. & 28.05.2022
SUNSET BOULEVARD - Theater Krefeld
Lyoyd Webber : SUNSET BOULEVARD
31.5.2022 Theater Mönchengladbach
6.6.2022 Theater Mönchengladbach
NN Theater Krefeld/Mönchengladbach
Reprises:
Dvorak : RUSALKA - dates tbc
Poulenc: DIALOGUE DES CARMELITES - dates tbc
R. Strauss: SALOME - dates tbc